Glasgow Life has agreed to lend the copy of the Rutherglen St Eloi statue, made for the People's Palace displays in 1975.
The piece has an important story to tell, not just for Rutherglen, but for the wholesale cultural destruction which took place of all catholic images at the time of the Scottish Reformation of 1560. The first two of the Ten Commandments, 'Thou shalt have no other gods before Me' and 'Thou shalt not make unto thee any graven image..' led to the wholesale smashing of statues and obliteration of devotional paintings in Scotland by the religious reformers. St Eloi, hidden beneath the floor of Rutherglen Parish Church, is a rare survivor. His story is told on the following pages.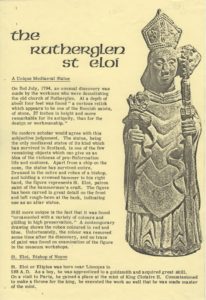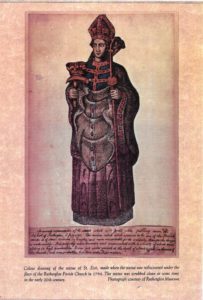 When discovered in 1794, the statue was brightly painted as shown in the drawing above.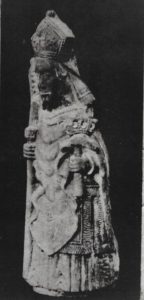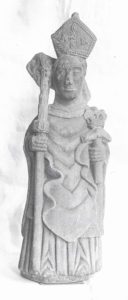 Photographs by Springburn photographer Willie Graham (1845-1914) taken in 1902 show the paint and gilding on the statue intact, after which it was scrubbed to the bare sandstone. It is remarkable that a pre-Reformation religious statue survived with its colour intact for 350 years in Scotland and the piece is unique in this respect.
Photographs courtesy of the Mitchell Library, Glasgow.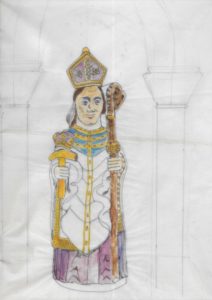 The copy fibreglass statue was exhibited without colour from 1975. In 1989, a tracing was made in preparation for the Early Glasgow Gallery re-display.
The copy statue was then painted in the colours in which it was discovered and shown in context as a flat-backed altar statue, using materials from other recently-demolished churches in Glasgow:
The original statue is now in the Hamilton Museum collection, following local government reorganisation in 1996. It is not currently on display.
More can be read about Rutherglen Old Parish Church here: https://rutherglenoldparish.org/historical-background-to-the-site-of-rutherglen-old-parish-church/
For the rarity of the St Eloi statue, see Lost Interiors: the Furnishings of Scottish Churches in the Later Middle Ages by David McRoberts (1912-1978) published by the Scottish Catholic Historical Association, 2013, p128