People's Palace 122nd birthday, 22 January 2020
Messages from people who could not be with us:
From actor John Cairney and his wife Alannah O'Sullivan. Both were very active in the 1990 campaign to help the People's Palace.
Unfortunately, Alannah and I can't be with you.
We genuinely wish you and all at the People's Palace a deserving 122nd Happy Anniversary! The People's Palace for me growing up nearby in the East End made it a very special place indeed, and I was grateful for it. It still belongs to the People of Glasgow as it speaks for all of us, not only by its longevity and continued credibility, but for fully representing the beating heart of the city.
Yours,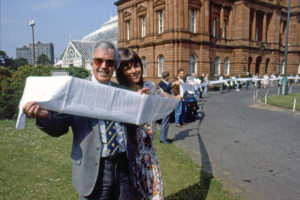 John Cairney
From Bill Kidd MSP, who was a Friend of the People's Palace 1987-1992 and has rejoined in support:
Due to Parliamentary duties I will be unable to join all those in attendance, however I send all best birthday wishes to the People's Palace and to all of the Friends down the years who have helped in many and various ways to keep this fantastic venue relevant to the City of Glasgow and its people.
Bill Kidd MSP
Glasgow Anniesland
(former member of Workers City)
From John Mason, MSP:
'I am delighted that there is an event like this to mark the birthday of this significant building. In the constituency I cover in the East End, we do not have a huge number of museums or traditional tourist attractions. That is why I am so proud to be the MSP for Glasgow Green, including the People's Palace, Winter Gardens, and Templetons. These are buildings Glasgow can be proud of and we need to do all we can to preserve them and put them to the best possible use for future generations. Thank you to all who have put today's event together and for all the work you do for our local area.'
John Mason
MSP for Glasgow Shettleston
From Sandra White MSP, Glasgow Kelvin
Sandra lodged the following parliamentary motion in recognition of the 122nd anniversary of the People's Palace.
Title: People's Palace Celebrates 122nd Anniversary
Motion Text:
That the Parliament celebrates the 122nd anniversary of the opening of the People's Palace at Glasgow Green; notes that it is home to a collection of objects, photographs, prints and film, which give a unique view into how Glaswegians lived, worked and played in years gone by through to the present day, and commends all of those involved in securing this wonderful venue for generations to come, in particular, the Friends of the People's Palace and Winter Gardens, who have ensured that the People's Palace and its artefacts are safeguarded and celebrated.
As the Friends of the People's Palace, Winter Gardens and Glasgow Green is a 'friends of parks group', we invited other Friends of Parks, some of whom promised to come. Others, such as
From Duncan Speirs, Friends of Victoria Park, wrote:
Due to work commitments I will not be able to attend. My apologies, I wish the event much success and all the best on this celebratory occasion, may there be many more.
Meantime take care
Kind regards
Duncan Speirs, Friends of Victoria Park
There have been many birthday celebrations for the People's Palace over the years. In 1998, musician Eileen Farrelly came to play for the 90th birthday party when she was part of the Glasgow Parks Orchestra, formed to play at the Garden Festival and in other venues. She was here again with her fiddle today.
The poet, Christie Williamson came to read a poem for the occasion.
The eminent composer and flautist, Eddie Macguire, who has played with his group, The Whistlebinkies in the Winter Gardens and has premiered some of his works there, also came to play some music at the event.
A cake with the Friends of the People's Palace Winter Gardens and Glasgow Green logo was cut and enjoyed by the company, with special thanks to the Glasgow Life and Cordia staff who facilitated the event.